Discover
The Rotary Club of Goshen N.Y.
Service Above Self
We meet Thursdays at 12:15 PM
Delanceys Restaurant
40 Park Place
845.294.8254
Goshen, NY 10924
United States

Rotary Central - What is ROTARY????
Rotary praises unsung heroes on World Polio Day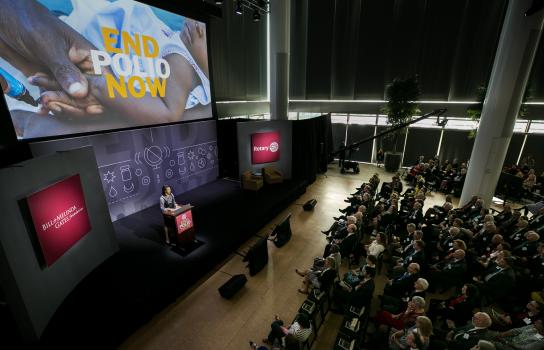 Rotary and the Gates Foundation host fifth annual World Polio Day to highlight progress in the fight to eradicate the
Interact's Santa Gathering
The Rotary Club of Goshen NY, held its annual Kids Party at Glen Arden on Saturday, December 16 from 10 AM - 1 PM. Again this year the Goshen High School Interact Club joined us en masse, and staffed a variety of activity tables for the kids. Brandon Nielson was our Santa again this year, and as always did a great job. Kudos and many thanks to Rotarian Diane Blanton for coordinating this particular community service project, and for her leadership in assuring that all went well.
Jane's Purse
Rotary President Jim O'Donnell presents a $200. check for The Jane's Purse Fund to Assistant Principal Heather Carman, Lynette DeJesus and Jennifer Blake of C.J. Hooker Middle School. Named after Jane Unhjem, Assistant Superintendent for Curriculum and Instruction, who passed away on August 19, 2012 from injuries sustained from a plane crash in Long Island.
Adopt-a-Family
Santa's helpers were very busy yesterday dropping off loads of presents for the family that we adopted through Catholic Charities Community Services of Orange County (CCCSOC). Coats, clothing, boots, toys, pots & pans, a crock pot and a HUGE laundry basket filled with toiletries.... Several, generous gift cards as well. The list was long but fulfilled. A BIG Merry Christmas to all who participated.
Goshen – Thanks to the generosity of donors, Catholic Charities Community Services of Orange County (CCCSOC) helps make the Christmas season a little brighter each year for the children and families it serves through the annual 'Adopt-a-Family' gift program.
Hambletonian Marathon - Water Table #2!!!
Pictured (l-r) Ken O, Chris A, Mark G and Rolly P. ---- Working on other parts of the course Ron K., Mark Gargiulo, Pat S. and soon-to-be-a member Doug Haines!! Great feedback from the gracious runners!!

Interact Harvesting for the Food Pantry
The Goshen High School Interact Club hard at work harvesting potatoes for the food pantry. Thanks to the John Lupinski Farms, (Diane & John) and Club Moderator, Mrs Laskoski.
2018 January
Sgt. @ Arms
Gargiulo, Mark
Birthdays & Anniversaries
Rolland Peacock

January 5

Ronald Klieverik

January 5

Edwin J. Garling

January 6

Vince McCormack

January 12

Hannah Schindler

January 24

James O'Donnell

January 28

Jason Giordano

January 28

Mark Thabet

January 30
Etna Kotur

Ron Klieverik

January 5

Ronald Klieverik

Etna Kotur

January 5

James O'Donnell

Margaret O'Donnell

January 6

Doug Fazzino

Joanne Fazzino

January 20
John Goodreds

January 1, 1970

48 years

John Mayo

January 1, 1963

55 years

PDG Kenneth Obremski

January 1, 1970

48 years

Vincent Hammond

January 7, 1993

25 years

Allen Zick

January 15, 1998

20 years

Hannah Schindler

January 25, 1996

22 years

James O'Donnell

January 31, 2013

5 years